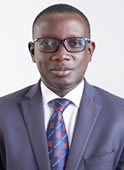 Gordon Dery brings to ARB Apex Bank rich experience spanning more than 20 years in both local and international companies. Until he joined ARB Apex Bank, Dery was an Associate Executive Director for Wealth Management at FirstBanC Financial Services. He also served as Head of Marketing and was later promoted to Director, Business Development. At FirstBanC, he helped to build a strong Marketing Department, which brought in significant funds, thereby helping the company to win several awards. He also led the expansion of the Investment Bank to several regions of the country.
Before joining FirstBanC, he worked with Eximguaranty Company Ghana as Head of Marketing, Research and Product Development, where he spearheaded the company's business development efforts and marketing strategy, which led to expanding its business to the Western and Northern parts of the country.
Dery has also worked with Fidelity Bank as a Relationship Manager, where he managed a portfolio of corporate clients. Before Fidelity Bank, he was a lecturer at the Regent University College of Science and Technology as well as the Ghana Institute of Management and Public Administration (GIMPA).
He holds an MBA in Strategic Marketing from the University of Hull in the United Kingdom and a Post-graduate Diploma in Marketing (CIM, UK). He also holds a Bachelor of Arts Degree in Economics and a Diploma in Education from the University of Cape Coast.
Dery is a full member of the Chartered Institute of Marketing, Ghana (CIMG), where he also serves on the Project Committee. He is a full member of the Global Marketing Network. He is fully licensed by the Ghana Stock Exchange (GSE) as an Investment Banker.
It is expected that this rich cadre of top executives would bring their rich exposures to bear on the operations of ARB Apex Bank and the Rural and Community Banking (RCBs) fraternity. There are currently 142 RCBs in the country.