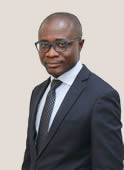 Samuel Gyimah Amoako was appointed as the Head of Finance on August 2022. Prior to that he served as the Head of Internal Control of the Bank from July 1, 2018.
Samuel Gyimah Amoako joined the ARB Apex Bank PLC as an Internal Auditor/Inspector in February, 2015. Five years afterwards in February, 2019, he became Head of Finance and Strategy Unit of the Bank.
Prior to joining the bank, he worked with Guaranty Trust Bank Ghana PLC as the Deputy Unit Head, Financial Control, from June, 2013 to January, 2015. He also worked with First Atlantic Bank from January, 2006 to June, 2013 as a Relationship Manager in the Corporate Banking Department, and also Assistant Manager, Internal Control and Audit. Before his banking career, he had auditing experience with Eddie Nikoi Accounting Consultancy, as Audit Officer.
Samuel is a multifaceted professional with over 18 years of cumulative experience in Auditing, Accounting and Financial Reporting, Banking, Taxation and Project Management.
Samuel is a Chartered Certified Accountant and Tax Practitioner, a Fellow of the Association of Chartered Certified Accountants (ACCA), a member of the Institute of Chartered Accountants, Ghana (ICAG), Chartered Institute of Taxation Ghana (CITG) and Institute of Internal Auditors (Ghana). He holds BSc. Administration (Accounting Option) and MSc. in Professional Accountancy from the University of Ghana and University of London respectively.